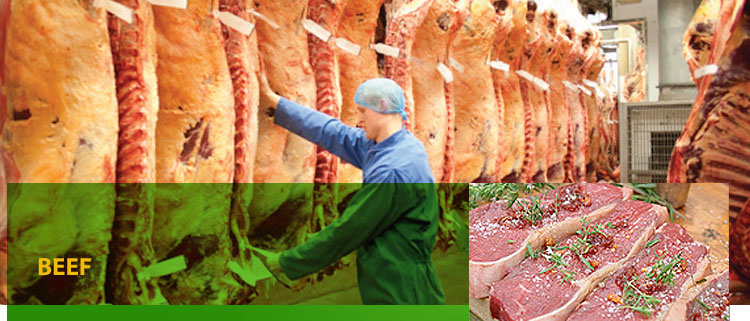 Beef: an Irish tradition
Ireland's reputation as a premier beef producing region goes back to ancient times. Cattle husbandry was the main form of agriculture on the island even before written records existed. The "Emerald Isle's" lush green grass, fed by the mild Irish climate, is the best possible food for cattle and it produces top quality meat.
Cattle are still raised in the traditional way, using natural methods, and the animals are bred to meet the discerning tastes of the international market.

International reputation
Ireland's excellence in beef production is down to fine agricultural traditions, mild climate, good grass, a high quality beef herd from ancient times and modern research techniques.
Our beef has a consistently high quality reputation with chefs, food writers, consumers and trade experts around the world. You can taste the difference.
Modern processing
Moyvalley Meats is a modern, streamlined fully-integrated beef production facility that offers the highest quality beef products to customers. Moyvalley Meats is in the heart of the beef production region and this, along with a loyal and long-established supplier base, guarantees the best and most suitable cattle supply all year round.

Customer Care
Our sales team develops long-term, mutually beneficial commercial relationships with our customers.

Our expert meat technicians engage with clients to ensure optimum quality and to reflect the needs of the marketplace.