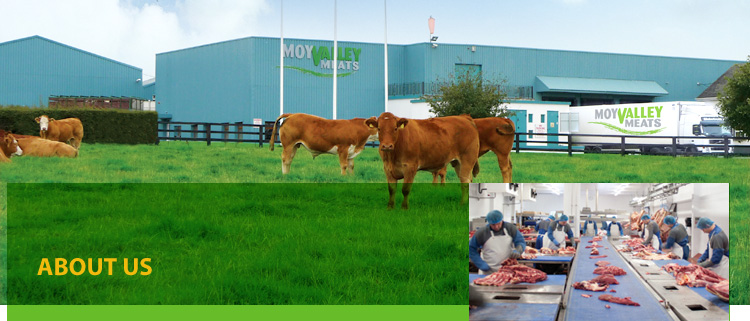 Moyvalley Meats
Moyvalley Meats is a highly regarded processor of top-quality beef and lamb.
Livestock farming is in our blood. We continue to raise our own animals at our farm straddling the border of counties Kildare and Meath.
We work with only the best buyers and agents to ensure all the meat we process maintains the quality for which we're internationally renowned.
Over the years, we've been successful in building links between farmers and the community.
Our strategic location in the heart of Ireland's leading beef-producing region – and close to ports and the M4 motorway – ensures minimal travel for maximum animal welfare and a consistent year-round quality cattle supply.
Customers have made our business what it is today. We listen to what they have to say and our highly committed staff work hard to maintain excellent relationships with our client base across Ireland, the UK, France, Holland and beyond.
Today, Moyvalley Meats manages to be both a family run business and a highly integrated company, with streamlined production, sales, marketing and distribution operations. We produce and distribute a wide range of quality meat products for some of the most discerning customers around the world.