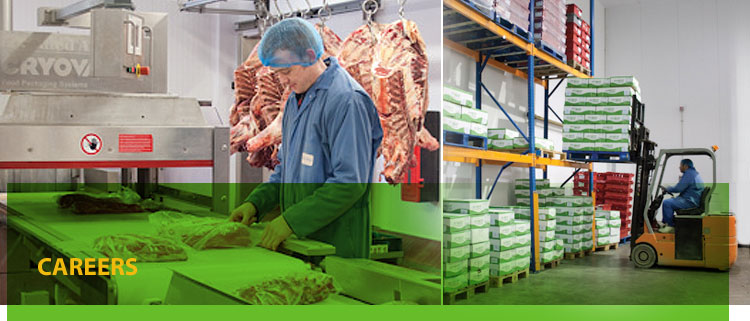 Current Vacancies
Technical/Quality Manager
Moyvalley Meats are currently recruiting for a Technical/Quality Manager for our site.
Location: Broadford, Co Kildare
Contract: Full Time, immediate start
Salary: Competitive
Responsibilities:
Be the face of our food safety team, dealing with our customers.
Establish and continually review food safety standards to meet those of Bord Bia and BRC.
Create and maintain food safety procedures, internal audits of procedures and ensure compliance
Work with the Operations team to establish and deliver on key performance metrics
Work to understand all existing and potential customer quality requirements
Work closely with local authorities to set standards for food delivery services
Coach, train and develop the team according to business requirements
The Successful Applicant:
You are currently a strong Quality/Technical Manager with experience in Food Manufacturing
Has Bord Bia/BRC experience
Strong leadership and communication skills with the ability to deal face to face with suppliers and customers
In depth knowledge of food safety systems, HACCP
To apply for this position please submit your CV to careers@moyvalleymeats.ie     or call 046-9551041
Security Person
Person required for Security shift – location Broadford, Co Kildare. Permanent full time roll.
Shift time will be from 6pm – 12am Midnight.
Duties will include:
-Monitoring of Chills
-Intake of cattle
-Overseeing cleaning of Factory
Responsible local person ideally, call 046-9551041 to arrange an interview or email careers@moyvalleymeats.ie
Night Cleaning Operative
Type of Contract: Full Time Position Available
Location: Broadford, Co Kildare
Responsibilities:
The candidate will be expected to:
Carry out cleaning as per company procedure
Operate high power hoses and foaming units
Clean Meat Factory including abattoir and boning hall
Work well under their own initiative and to ensure that their area of responsibility is to the cleaning standards expected.
Perform all tasks as requested by line manager to meet the requirements of the site.
Take responsibility for the safe use of all cleaning materials and equipment used in the course of your duties.
Ensure that all training is implemented and that correct cleaning methods are used at all times.
Report defects, deficiencies or health and safety related issues to your line manager with minimum delay.
Full Training will be carried out
Operate as part of a 4 person team
Night Shift 5pm until approx. 2am
Requirements:
Willingness to work in a shift environment where flexibility is required – Available to work Nights and occasionally Saturday nights.
Basic understanding of the English language
Previous experience working as a cleaning operative is desirable.
Excellent interpersonal and communication skills.
Ability to work alone and as part of a team.
Hardworking, honest and reliable.
Environmental Safety Officer / Treatment Plant Operator
Moyvalley Meats are currently recruiting for an Effluent Treatment Plant Operator for our site.
The successful candidate will be responsible for the operation and control of the Effluent Treatment Plant System, for monitoring and maintaining the operational parameters in line with the site IPPC Licence requirements, and  maintaining the site Environmental Management System.
Suitable Candidates should
ideally have experience and knowledge of Effluent Treatment Plant operations
a background in maintenance, environmental science or water analysis is beneficial
Demonstrate the ability to work independently, on your own initiative and to problem solve
Strong communicator and demonstrate the ability to develop and maintain effective relationships with co-workers
Please send all CV's to careers@moyvalleymeats.ie or call 046-9551041 for more information.
Boners, Trimmers & General Operatives
We are always on the look out for good boners, trimmers and general operatives to work in our production facility. If you would like a career is a progressive Irish company please call to site and complete an application form, or send us your curriculum vitae.
Senior Sales Executive
Location: Broadford, Co. Kildare
Salary: Competitive
We are looking for a person with a proven track record in sales, ideally in the beef industry, to develop and expand our customer base. All applications will be treated in strictest confidence.
For further details on this role please email careers@moyvalleymeats.ie or call 046-9551041.
Trainee Sales Executive
Location: Broadford, Co. Kildare
Salary: Competitive
We are looking for a  person with an outgoing personality and excellent communication skills to join our Sales Team. Previous sales experience would be beneficial but not essential. The applicant must be able to work on their own initiative and be highly motivated.
For further details on this role please email careers@moyvalleymeats.ie or call 046-9551041.