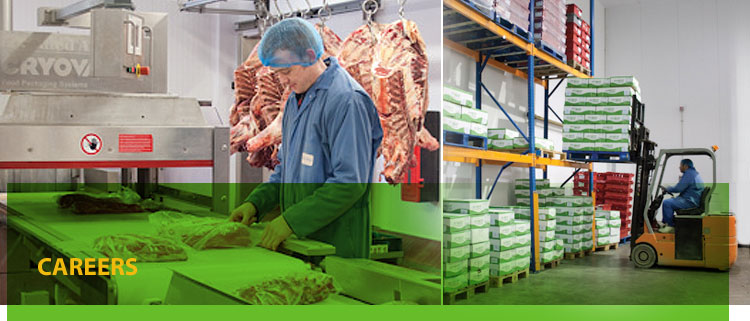 Current Vacancies
Daytime Cleaner
Daytime cleaner required for full time position.
Monday – Friday
Cleaning of amenities, officies, and factory garments.
Send CV's to asta@moyvalleymeats.ie , or drop in Monday – Friday 9am-5pm.
Boners, Trimmers & General Operatives
We are always on the look out for good boners, trimmers and general operatives to work in our production facility. If you would like a career is a progressive Irish company please call to site and complete an application form, or send us your curriculum vitae.
Quality Control
We are currently recruiting a Quality Controller to work in a heavy industrial environment: Cattle Lairage, Abattoir & Boning Hall
Skills Required: 3rd Level Qulification in Food Science or similar; knowledge of  Food hygiene & HACCP
Experience is desirable but not essential.
Senior Sales Executive
Location: Broadford, Co. Kildare
Salary: Competitive
We are looking for a person with a proven track record in sales, ideally in the beef industry, to develop and expand our customer base. All applications will be treated in strictest confidence.
Trainee Sales Executive
Location: Broadford, Co. Kildare
Salary: Competitive
We are looking for a  person with an outgoing personality and excellent communication skills to join our Sales Team. Previous sales experience would be beneficial but not essential. The applicant must be able to work on their own initiative and be highly motivated.
Night Cleaning Staff
We are currently looking for 2 new members to join our night cleaning team.
Successful applicants will have to work evenings/nights after production finishes from Monday to Friday- approx hours 5pm-1am, with the very occasional Saturday also required.
A good understanding of the English language is needed, previous experience is preferred but not essential as training will be provided.
Having your own mode of transport to and from work is essential.
Please forward all applications and CV's to careers@moyvalleymeats.ie or Moyvalley Meats, Broadford, Co Kildare.
If you are local feel free to call in for an interview between 9am and 5pm, Monday to Friday.